Sweet and Sour Pork (Capicola) Recipe
In our most humble opinion, nothing tastes better with tender pork than a sweet, savory sauce. Capicola is a well marbled cut of meat and not much needs to be done with it. 
Sweet and Sour Meatball Recipe
Mmm! This dish brings back so many memories of our childhood. It's packed with umami from the fatty pork, have amazing texture because of the smashed shrimp, and are perfectly bite-sized. They're so fun to eat that you won't be able to eat just… twenty.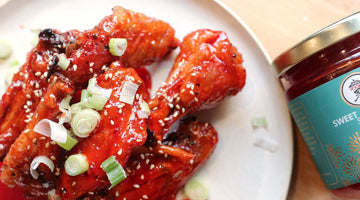 Sweet and Sour Chicken Wings Recipie
Put a fun, Asian twist on your basic chicken wings! Cook these crispy, delicious, easy-to-make Sweet and Sour Chicken Wings for your next big game night. Topped with green onions and toasted sesame seeds, these wings will be a huge W-I-N that you'll be M-V-P!